FOR THE TREES…..(A FEW THOUGHTS AS I TAKE A BREAK FROM THE TREE FILLED FOREST THAT MY BRAIN IS CURRENTLY IN!!!!)
As I sat down to work a couple of hours ago, I felt  huge sense of relief  and thanks to my Brother who has kindly offered to look after the children so that I can focus on what is a big and important project coming up for me tomorrow…..
I'm not one to ask for help as I know that everyone these days have busy lives…….but I'm also trying to "practice what I preach " as you know……So it came to today, when I needed to reach out and ask for some help….
"Not being able to see the wood for the trees" is a phrase that I feel I can really relate to of late.  With various different work projects on….all coming in around the same time…..I'm trying hard to prioritise…(as well as being a mum, wife, daughter friend etc etc….)
This photo was taken a few minutes ago….and it made me realise that as my mind was wandering to take this particular photo (the amusing line of cups already/orderly layout of papers)…I must be in need of a break!….So writing this message IS a break for me……It's taken my mind away from work, and meant that I can "talk" (write/type) my way through this over populated forest that is my brain.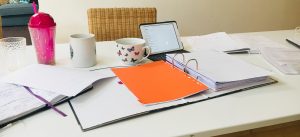 It's ok to takes breaks….in fact it's essential to take breaks…..
The coursethat I am delivering tomorrow is one that I already know I am going t get amazing satisfaction from.  Thats phrase of feeling you are "giving back" is one emotion that I know I am going to experience. Working with people who are lacing in confidence self esteem, motivation and being so stuck in a rut that they have n life interests ….no direction at all…..
It's hard work…..but its such rewarding work that I want to do this for both my learners and for myself and my boss!!!
So……there you have it….take breaks….and notice the signs that if your mind is wandering….do something to escape….(even if its for 5 minutes)……and if you're getting snowed under….ASK FOR HELP!!!!
Over and out for now….back to my notes!
Nichola x